Frequently Asked Questions
Do you ship worldwide?
Yes! As we use standard postal service (airmail) for shipping, we can ship to each location with a postal address. Please see the shipping rates in here.
Is tax included in prices?
Yes, all prices include VAT 20%. When you order from us, there are two possible cases:
1) If you are a customer from European Uninon, then your invoice will include VAT. You won't pay any extra fees or taxes when you receive the package.
2) If you are a customer outside from European Uninon, then your invoice WILL NOT include VAT. Your will pay less, but when you receive the package, depending on the value of your order, you package may or may not be charged customs or import taxes. Unfortunately, these charges are out of our hands, and vary widely from country to country. You can get a general calculation about your import taxes using this calculator (you can use this calculator 5 times for free). Our company is located in Estonia, so please make sure to have Estonia in "Importing from" field.
Here's a sample: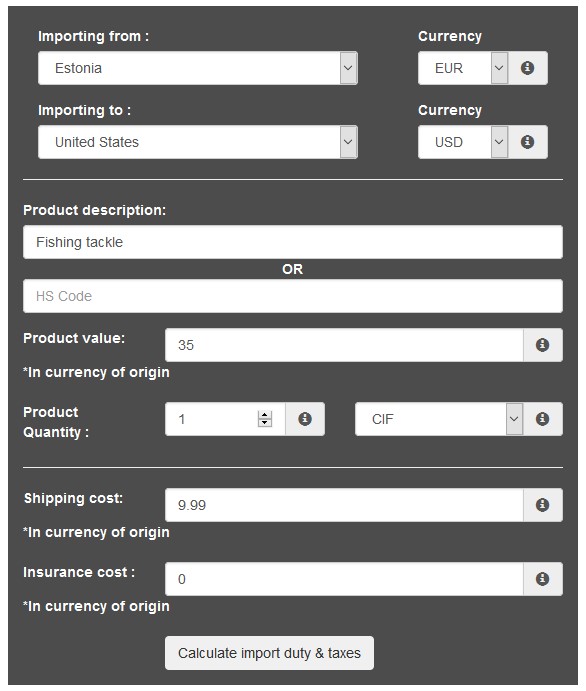 If you wish to double-check the import fees, please contact your local customs office.
Do you sell to companies, as well?
Yes, for business-to-business orders please send an e-mail info@pro-fishing.eu
Can I track my order?
Yes. All packages are trackable and we will send you the tracking code by e-mail.
I haven't received my order yet, where is it?
We will forward the package to Postal Service within 3 days (usually the same or next day). From there it takes about 1 week to reach the destination country. It doesn't matter if you are located close to us or you live at the opposite side of the world - delivery time is quite the same. In rare cases there are delays. One of the more unfortunate (and uncontrollable) parts about non-EU* shipments is that sometimes orders can get held up in your country's customs office. This process is usually only a day or two, but very rarely we have also seen it take up to 3 weeks for it to clear customs. This is outside of our control. If you haven't received the goods in two weeks, we suggest you to:
- track the package using the tracking code
- check if your delivery address is correct
- ask form your Post Office
Usually postal services accept claims if the customer have not received the package within 4 weeks (1 week standard delivery + 3 weeks of delay). Based on our experiences with delays, the package can suddenly show up during the 3-week delay period. Please let us know if you haven't received the package within 4 weeks and we will make an official query to Estonian Postal Service.