Depending of the stock availability, we will ship the Vision products within 2 days or 2 weeks. For buying the product, please add it to cart and complete the purchase. If you wish to find out the exact shipping date, please contact us via customer service or info@pro-fishing.eu.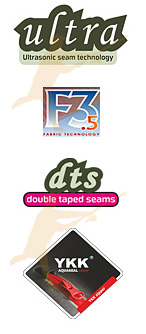 Vision Kura waders are the first members of the new ULTRA wader family. These new era waders benefit from ultrasonic welding technology, which joins fabrics without any stitch holes. This enables extremely light waders with durable non bulky seams.
Vision Kura waders are super comfortable and light, ideal if you're out all day trekking in warmer weather. For colder climates they'll double up nicely with some technical under layers.
An exceptional all round wader and a favourite with many.
Features of the Vision Kura Ultra waders:
ultrasonic welding for flat and durable seams

lightweight, packs in a small space

waterproof & breathable F3.5™ fabric 3 layer construction

three water resistant front pockets with YKK®'s AquaGuard zippers

tool holder pocket in front

inner mesh pocket

matching colour stretchable wading belt with two belt loops

adjustable, matching colour braces

built in gravel guard with lace hooks

built in drying loops

neoprene feet with left and right side design

curved NoSeam™ cut for perfect fit 'D' loops